Nebraska DIY Mule Deer Hunt 700 acres private land
Hot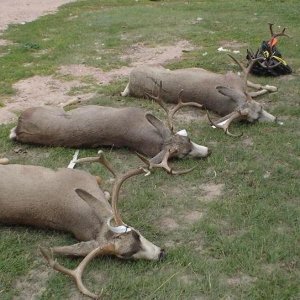 Hunt Info
Unguided Hunts Available
Yes
5 hunters for only $1185 per hunter!
Wouldn't you like to shoot a big buck in southwest Nebraska? I have both Whitetail and Muley, but mostly Muleys. I have 700 acres of private land and 1500 acres of public land surrounding my hunting house where you will stay. It is only 20 miles from McCook, which has a super Wal-Mart in case you forget something.
You have found one of the hidden Mule Deer, (plus there are some big whitetail bucks to shoot if you would rather that than a muley) treasures of SW Nebraska. This hideaway has corn, wheat, milo and CRP, a stream and Woods wrapped around Mule Deer. It doesn't get any better than that on a DIY. The first 3 day is Mule Deer hunting only. The last 4 days of the rifle season is Deer plus pheasants and quail. The deer have the row crop for feed and 1500 acres of CRP to bed in during mild weather and woods during bad weather. 
Caution: this Frenchman unit rifle Mule deer licenses sell out in 12 hours around July so book early and get your licenses as soon as they are available. 
Whitetail buck licenses are available usually until November.
The hunter per year totals 5 including all seasons as a rule for archery, rifle and muzzleloader to continue the high quality that we continue to provide on this DIY hunt. The muzzleloader tag is available over the counter and the season is all of the month of December. Archery is also over the counter and runs about 3 months. Buy a second buck tag and fill it only with a whitetail with only a $500 additional fee, otherwise no more than 1 mule deer per person. We strive to keep the quality high on this lodging included DIY hunt. 
You will be given a map of the property including the fence line boundaries with a signed permission slip for that property for those days. It is your responsibility to stay on the designated property.
A guide is available for the first day to tour the property and show you the fence lines and the best places and technique to hunt mule deer, whitetail deer and pheasants. The fee is only $100 and he is only available for the one day. This is a great way to learn the honey holes in this property.
Lodge is a no smoking area and is available pictured above but not included. This is a great place for a self-contained motor home or camping trailer.
While spot and stalk or ground blind hunting you will see lots of mule deer as they move from the corn back into their day beds during the rut.
Photographs above are from the deer that were taken last year and seems to be the average size of the muley's in the area although the rut is on during the rifle season so anything can happen.
ATV's are ok but I recommend they be used only to bring in dead deer because the deer spook from the engine noise of the ATV's since it is not a common noise to them. A 4 wheel drive truck will take you most places and quieter. The land owner will possibly be in the area farming during your hunt.
He will meet you at the lodge and go over the maps and other details, then provide you with his home and cell phone number for a contact.
Archery hunters hunting before the second group of rifle hunter cannot hunt birds.
December muzzleloader deer hunters can hunt birds while muzzleloader hunting deer as long as no one is coming in after them. All hunts are 4 day hunts but extra days can be added for $ 200 per day if it doesn't conflict with other reservations.
You can provide your own lodging with a camper or tent, or stay in McCook about 20 miles away. In addition there is a house on the premises that rents for the number of days you are hunting. Of course meals are not provided on this hunt. Also skinning and caping is the responsibility of the hunter. There is meat processing available in the town of McCook along with Wal-Mart and other stores and restaurants.
Where we are Located
Hunters can fly into McCook, North Platte or Denver and rent a vehicle to drive to the farm which is 20 miles NW of McCook by the town of Culbertson, Nebraska.
Costs
 What you will need a $209 Nebraska Deer hunting license and a $16 habitat stamp, both of which you can get off the internet in early July when they become available. For archery and muzzleloader season the licenses are available at any time.The 4 day DIY access hunt is only $995. Additional days of hunting are $ 200 per day per hunter. The house is available on site and rents for $600 for the 4 days. Extra nights are $ 150. Extra day hunting and lodging are only available if they don't run into other reservations.
Non-hunting guests that are staying at the house pay these rates also. The House is actually a remodeled farm house lodge where my wife and I used to live. It has one bedroom with a double bed and a big bedroom with two double beds. In the living-room it has two sleeper sofas so it can sleep five very comfortably. Please bring your own sleeping bags to sleep in. I also have a nice mattress type cot. I furnish the towels, blankets, soap, cooking utensils and plates, cups, silverware, etc. You furnish your own food and drink. It has a coffee maker, can opener, toaster, two microwaves, full size fridge and electric stove, washer and dryer, shower/bath, and TV. It also has a fireplace, pool table, grill, and modern propane forced-air furnace. Below is a picture of the living room. You will like it, unless you are Paris Hilton, but then she thought Wal-Mart sold wall things, like clocks and paintings that hung on your wall! 
The group of deer hunted on opening day of the deer season can only hunt deer. The group taking the last 4 days can hunt deer along with pheasants and quail if they wish. No more than 4 licensed hunters at a time. A second deer can be shot if you have 3 or less in your group so that no more than 4 deer are taken by each group. We want to keep our deer quality high by limiting the number of deer harvested each year. No doe deer harvest except for whitetails. Additional Whitetail doe Deer $100 It is illegal to shoot a mule deer doe!
Sample calculations of 5 hunters for 5 days with a $200 refundable cleaning and damage deposit included:
All of the detail that I have added is in Blue. The Black is the original information.
Pricing Break Down
$995 x 5 hunters hunting…………………………………………. $ 4975
$200 x 5 Hunters hunting the extra Day……….…………   $ 1000
$195 x 1 (5 Hunters) Lodge extra day ……..………………. $   195
$195 x 5 Days in Lodge …………….……….……………………. $    975
$100 1 Day Guide service for everyone……………………..$   100
$ 100 Refundable Damage and Cleaning Deposit…..….$   200 (Damage is decided by the Use or Abuse decision) (Cleaning has never been a problem in the past hunters take off muddy boots in the house.)
--------------------------------------------------------------------------
Total                                                                                      $ 6470
(Average per hunter $ 1294)
50% Deposit is   $ 3200.00 Invoice is located below.
Additional options
$ 400 per extra or second buck whitetail hunted when the license is purchased from the Nebraska Game & Parks.
$ 100 for a doe whitetail hunted when the license is purchased from the Nebraska Game & Parks.
There are plenty of blankets and pillows for 5 hunters but if you have sleeping bags bring them. The lodging /hunt is not reserved until the deposit is paid. With a rate per hunter under $1400 with 5 days of lodging you can see that this is underpriced so it books up early every year.
SUCCESS RATIO BY:   
ANIMAL SPECIE                    OPPORTUNITY%             KILL RATIO %
Mule Deer Rifle Season                100_____%                      _100____%
No data first time
Archery________________               _______%                        ________%
No data but the deer are there 
Muzzleloader_______________         _________%            ________%
Typically 8-10 point mule deer or whitetail deer are taken
The degree of physical exertion depends on the individual and how he wants to hunt, spot and stalk or in a ground blind. The crop land is flat but some of the rest of it is not.
There is 700 private acres divided into 6 acres of woods, 200 acres of corn, 194 acres of wheat, and 100 acres of pasture. The pasture has draws that drain down to black creek. These draws are filled with brush where the deer bed during the day. Additional there is an adjacent 1500 acres of huntable CRP in a hunting program so you can hunt it. The deer do not migrate so they are there all year around. During the rut they do temporarily move in and out of the area but even then they tend to stay around the grain fields.
Also be aware of the neighbor's property, if you need to hunt it please ask permission first and they may or may not charge you to hunt it but by all means ask first to prevent game warden problems.
Tags: Licenses are available over the counter from Nebraska Game & Parks 2200 N. 33rd St. Lincoln, NE 68503 • (402) 471-0641 http://www.ngpc.state.ne.us/ 
Hunt ID: NE-M-Deer Pheasant Quail-All-McCook-FBL-Wayne-DIY
{BreezingForms:Hunt_Special_Information_Request_Form}