South Dakota DIY Whitetail Deer Hunt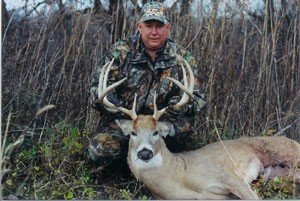 Hunt Info
Unguided Hunts Available
Yes
SOUTH DAKOTA GOLD! WHITETAILS ON THIS PRIVATE FARM BELT IN WESTERN SOUTH DAKOTA-ALSO STAY IN A CABIN WHERE DEER FEED JUST OUTSIDE YOUR DOOR.
Prices: at only $995 per person for 3 or $1395 per person for 2 hunters.
This property is hunted lightly and a QDM management plan is in effect to build age on the bucks on this farm and neighboring farms. Last year a 4x5 and a 5x5 on the property with plenty of deer to go around, A neighbor shot a 7x7 in his corn field so there are some good deer in the area but not pushovers.
Crop rotation provides 2 year of corn, followed by 1 year of small grain with the 2011 season a small grain year. Although with the deep draws and cover in the creek and the shelterbelt the deer bed in the area it is better when the corn is also there. The South Dakota Unit number is "60", Tripp County, which is listed as mule deer and whitetail but a mule deer is seldom seen on the property so put in for whitetail. The applications are usually available in July and application deadline is usually July 31st. 
 Paper and electronic applications are available. A preference point can be purchased for
$ 5.00 and selecting a specific hunt code. The odds are good if a non-resident has zero points, but they are guaranteed if you have a preference point in the system. 
THIS HUNT IS LIMITED TO 2-3 HUNTERS PER YEAR. NO ONE ELSE WILL BE HUNTING YOU HAVE THE PLACE TO YOURSELF.
This honey hole is 320, plus 160 CRP acres in Tripp County South Dakota with predominately whitetail deer although a few muley's do visit on occasion, ideal for 2-3 hunters. The cabin sleeps 3 easily and you can cook or go the 12 miles east into the town of Witten. You will be surrounded by CRP, corn and wheat. Food plots are also planted to add more attraction for the deer.
There is an Archery season from September 25th to December 31st, Muzzleloader is December 1st until January 15th. The regular gun season opens the second Saturday in November, about November 12 and runs for 11 days until 11/23.
The CRP becomes their bedding area once they are pushed out of the shelter belt. The cabin is in one of the huge shelter belts where deer bed every day. Technically this is an easy DIY house but the farmer is happy to give you some direction as to what the deer do and when. You are in the prime honey hole of a large area so deer tend to come into the trees for cover at anytime or the corn to eat in the morning and evening.
There is a 14x24 cabin with running water, heat and beds but hunter are required to bring sleeping bags there is enough sleeping space for 3. Hunters are required to take care of their own meals and leave the cabin the way they found it.
The property has food plots at times through the crop rotation for the 200 acres of wheat or corn. Mineral licks have been placed on the property. There is about 100 acres consumed by cottonwood tree covered creek that is usually one of the water sources. There is also 40 acres that is currently cultivated and is planned to be in CRP sometime in the future. There is an 8 row shelter belt with cedars, locus, Russian Olives and elm trees with some cottonwood trees intermixed. The shelterbelt is ¼ to 3/8's mile long providing excellent heavy cover.
Ideal hunters are a father son or two mature adults. 3 hunters are possible but two would be preferred. 
Hunting Location: Tripp County, Witten South Dakota
Length of Hunt: 5 Days
Animals: 8-10 point whitetails
Level of Guiding: DIY but assistance is local
Food: DIY or in town
Opportunity/success: 100% opportunity and success estimated at 99% success
Booking: $500 due at booking, balance due 30 days before the hunt.
Rifle tags must be drawn but archery is over the counter.
Archery and muzzleloader deer will be added to the rifle deer hunting and will be available in fall of 2010 for the first time.
South Dakota Game Fish and Parks can be contacted on (605.223.7660) Or their web site http://www.sdgfp.info/contacts.htm
Hunt ID: SD-WDeer-All-Witten-DIY-Dave
{BreezingForms:Hunt_Special_Information_Request_Form}