Kansas Whitetail Deer Hunts Unit 11
Hot
http://hornandfin.com/media/reviews/photos/thumbnail/300x300s/89/1b/32/_kansas-whitetail-deer-hunts-unit-11-1345224287.jpg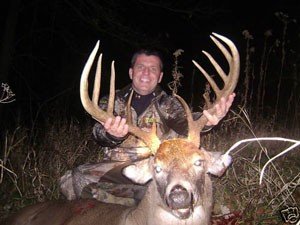 This is a fully guided with meals and lodging free ranging whitetail Trophy hunt with 140-180 Whitetail are the norm for the most part on this limited hunting property.
 HUNTS                                                                            # OF DAYS      PRICE                           
1._Archery Whitetail                                                                  5           $ 3,950 
Guided One-On-One, First Class Lodging, Meals, 6 nights/7days/5day hunt
2._Muzzloader Whitetail                                                        5 _           $ 3,950
Guided Two-On-One, First Class Lodging, Meals, 6 nights/7days/5 day hunt
3._Firearms Whitetail                                                              5___     $ 5,850 
Guided Two-On-One, First Class Lodging, Meals, 6 nights/7 days/5 day hunt
4._Spring Turkey                                                                3         $ 1,875 
Guided One-On-One, First Class Lodging, Meals, 4 nights/5 days/3 day hunt
5._No-Limit Upland Bird (Pheasant/Chukar)                2 __     $_1,350
Includes: Guides, Dogs, Shells, Sporting Clays, Lodging, Meals,3 days/2nights
TYPICAL SIZES OF TROPHIES TAKEN: are in the 140" - 180" size bracket
______________________________________________________________________________
SUCCESS RATIO BY:     ANIMAL SPECIE          OPPORTUNITY%    KILL RATIO %
                                              __Pheasant_____                 _100__%                   _100___%
                                                        ___Turkey________                        _100___%                        __100___%
                                                           __Whitetail_____                      _100_____%                 __67____%
The DEER HUNTING area you will be hunting in Unit 11/_Neosho County, KS 
IS DRAWING OR GETTING A DEER LISENCE FOR THIS AREA DIFFICULT? No-100% Applied Drew Tags
The degree of physical exertion is very low physical exertion because to the style of hunting is blinds, spot & stalk with Heated Tower Blinds, Ladder Stands, Ground Blinds 100% private land.
You will have 20,000 Acres with River/Creek bottom agricultural, hardwoods, native prairie, rolling hills to hunt.  It is recommended that you bring binoculars for your hunt.
BEST DATES BY SPECIE: Upland Birds - Jan. thru Mar.    Turkey-April-May   Archery Deer-November    Firearms Deer-1st two weeks of Dec.  Muzzle loader-Deer Last 2 weeks of Sept. 
HOW ARE LICENSES ACQUIRED- DEADLINES FOR DRAWS, COSTS- QUIRKS: NR deer tags are applied for in April----Everything else is over the counter HUNTERS FLY TO WHERE? Tulsa, OK
 PRIMARY AIR CARRIERS: Southwest/Continental
OBSERVER COST: $150/day 
ARE THERE ANY MINIMUM OR MAXIMUN PARTY SIZE? Yes 8 for Deer/Turkey 24 for Upland game birds
The license prices are $72.50 Non-Resident Hunting License, $332.50 Non-Resident Deer Permit, 
The facilities are First Class rooms w/Private Bath, Clubhouse, Great Room, Dining Hall, Bar, Kennels, Sporting Clays, Wi-Fi, Sat. T.V., 600 yd rifle range, archery range, Conference Center, and of course  hot showers. No sleeping bags are required.
When the deposit is paid the outfitter will send you a detailed information sheet, directions, equipment and so on.
The expert guides will transport you to your deer stand in ATV's or 4x4 drive trucks depending on the location and conditions.
SKINNING and caping is included in the hunt if you wish it to be done.
MEAT PROCESSING AVAILABLE Locally for upland game, turkey and deer 
ID Number: KS-WDeer-All-Toledo-Kevin-Guided 
User reviews
There are no user reviews for this listing.