Wyoming Antelope Semi Guided Hunt, Douglas Unit 28, 29
Hot
http://hornandfin.com/media/reviews/photos/thumbnail/300x300s/bb/0d/e6/_wyoming-antelope-semi-guided-hunt-douglas-unit-28-29-1344475613.jpg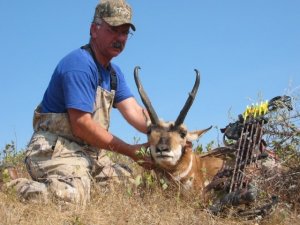 Idaho Black Bear, Mule Deer, Elk, Moose, Mountai
DISCOUNTED HIGH QUALITY ANTELOPE HUNT IN WYOMING  
Lodging and semi-guided to get you to the best bucks on your own                                                    
Tag still available! Application Deadline is March 15th. If you miss it there are some left over licenses available in most cases.
Prices reduced $1900, to only $1195 while supply lasts.
Youth Doe Hunts are also available for only $300 with a buck hunter present.
Hunting Location: Douglas, Wyoming
Animals: Pronghorn Antelope
Level of Guiding: Semi-Guided 
Lodging: Unique lodging in a remodeled 1900 School House, warm, and, with plenty of Antelope inn two different units to extend the season dates. (Unit 28 and Unit 29)
Prices reduced $1900, to only $1195 while supply lasts.
Youth Doe Hunts are also available for only $300 with a buck hunter present.
We can also assist you in getting a Wyoming Handicapped Hunter permits if you have someone meeting the Handicapped Hunter requirements.
With a non-refundable Deposit of $600 to hold your dates
The Ranch is a scenic 18,000 acre working private cattle ranch, which offers great hunting opportunities each fall. The Outfitters Great Grandfather, Tom Robinson homesteaded this area of Eastern Wyoming prairie that teems with a variety of wildlife, including numerous herds of Antelope.
* Antelope hunt rates for the three day Rifle hunt or a four day Archery hunt is $1,195. A 50% deposit is required ($600.00 will reserve agreed upon dates). Remaining fee will be due 30 days before your hunt. Left over licenses are available for purchase from the WY Game and Fish web site in July.
* Hunt Area and Dates: Antelope hunt area 28 & 29, archery dates are from the middle of August to September 30, and rifle dates are the last week in August until the middle of October.
* Lodging: Included in the fee are accommodations in a rustic two room country school house which has been outfitted with a wood stove, a bunk room with beds, cooking facilities with a stove and refrigerator, and a restroom. Electrical RV hookups are available. 
Town is about 8 miles away if you would like to go in for meals and refreshments.
HUNTING GEAR & EQUIPMENT PACKING LIST 
Below are our recommendations for a typical 4-5 day hunting trip. On more lengthy hunts, add a change of clothing for additional comfort. Special attention should be paid to outerwear. These should be a noiseless as possible so please leave clothing made with nylon material at home. Weather is unpredictable and can range from snow and 0 degrees F up to 70 degrees F, so best to be prepared for anything. Please confine personal items to two medium-sized duffel bags and one gun case. 
Clothing 
Hat with brim 
Stocking cap 
Blue jeans, canvas or wool pants 
Wool or flannel shirt 
Sweaters 
Underwear, socks (wool) 
Leather boots 
Cold weather boots 
Camp shoes 
Leather gloves, cold weather gloves 
Fluorescent orange hunting vest 
Rain coat and pants 
Cold weather coat 
Cool weather coat
Gear 
Licenses and Hunter safety certificates 
Lightweight day pack 
Sleeping Bag (down or fiberfill to 0 degrees F) 
Pillow 
Cartridge holder (prevents shells from clinking on stalk) 
Flashlight 
Binoculars 
Canteen and water bottles 
Hunting knife 
Rifle 
Ammunition
Sundries
Toothbrush, towel, washcloth, soap, shampoo 
Medicine (aspirin, prescriptions) 
Chapstick or sunscreen 
Camera, Film and Batteries 
Sunglasses (if prescription, bring extra pair)
LICENSE FEES 
Licenses for hunting are not transferable to another person according to Wyoming and law. All Wyoming licenses are on a drawing system. We are happy to help you in securing the permits for your hunt. Please send completed applications to us and we will submit them for you. Leave the hunt area blank.
Wyoming Game & Fish Department Headquarters
5400 Bishop Blvd. Cheyenne, WY 82006
phone: (307) 777-4600
http://gf.state.wy.us/web2011/home.aspx
n Lion Hunts 
Hunt ID: WY-Antelope-All-Douglas-Jay-Semi-Guided
User reviews
There are no user reviews for this listing.